While many people think that crimes can't happen to them because they're careful, it's all too easy to end up another statistic. In Austin right now, violent crimes are on the rise, and there have been a significant number of property crimes over the last year. Residents of Austin may want to start thinking about what they can do for home security and how they can protect themselves from becoming a victim.
Think About Home Security in Austin Texas
Violent Crimes
In 2019, the murder rate in Austin, Texas, rose by almost 5%. Most types of violent crimes experienced an increase, as well. Overall, there were 3,700 violent crimes reported in Austin through the last year. This means that one in every 256 residents within the city will end up being the victim of a violent crime.
Property Crimes
In the last year, there were more than 34,000 property crimes within Austin. This breaks down to more than 4,500 burglaries, around 27,000 thefts, and 2,500 motor vehicle thefts reported within the city. Residents have a one in 28 chance of being the victim of a property crime, which could include package theft, the theft of items left in unlocked vehicles, or the theft of items left outside.
Making the Home Secure
While crimes can happen anywhere, it's somehow worse when they happen at home. The home is supposed to be somewhere the family feels secure and safe. To help prevent crimes from happening at home, there are a lot of things the homeowner can do. Start by checking the locks on the doors and windows and upgrading them or replacing them if needed. Then, consider what else can be secured to keep the family and belongings safe.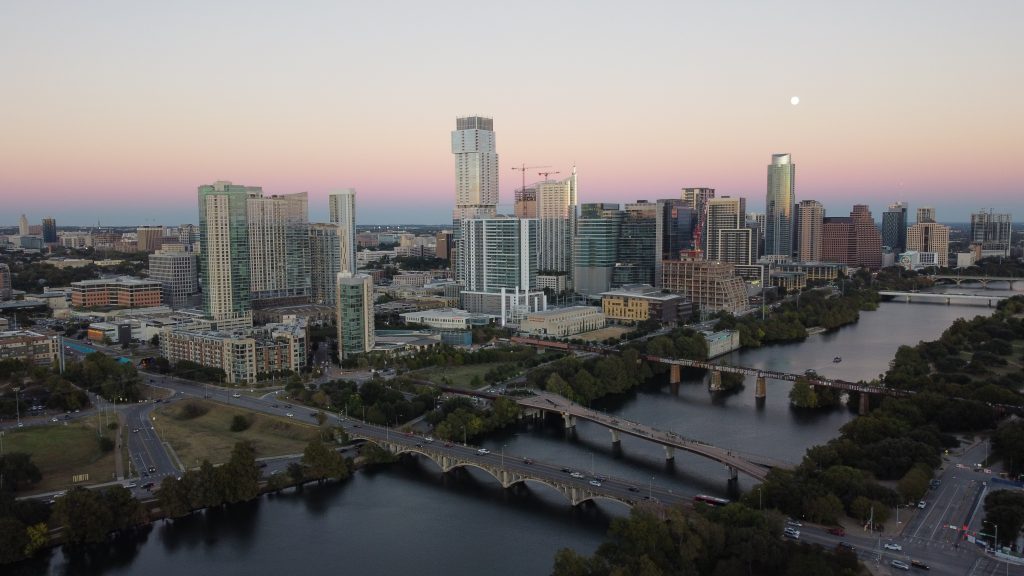 Adding a Security System
One of the best things a resident can do is install a security system. Studies have shown that burglars are more likely to avoid a home if they can tell it has a security system. A monitored system is the best option, as someone will always be available to contact law enforcement fast if the alarm sounds. Homeowners can choose the basic package for their system and upgrade as their budget allows or pick out accessories to include from the beginning.
Common accessories include additional door monitors, window monitors, additional motion detectors, and cameras. Some systems have leak detection and other devices available, as well. Once everything is purchased and installed, it's just a few dollars a month to have the system monitored. The homeowner doesn't have to worry about monitoring it on their own or what might happen if they can't contact law enforcement themselves when something happens.
With the rising crime in Austin, it's a good idea to make sure the home is as secure as possible. This way, the whole family will feel safe whenever they're home. Take the time now to learn more about what you can do to make the home more secure and how you can stop crimes from occurring on your property. Then, look into the various options for security systems.
Living in Austin
Austin, Texas, is a fantastic city to live in. Known for its amazing music, art, and comedy scenes people flock from far and wide to come live and visit here. Living in such an interesting place is a massive draw for many people. However as more people flock to an urban area crime rates also tend to increase.
Staying Safe in Austin with Violent Crime
Nobody ever wants to think about the possibility of a violent crime happening to them or their love ones. Let alone a violent crime taking place in a place that should be safe: your home. However as with all things it is of course remain optimistic while planning for the worst. In many cases a few simple steps can in fact act as a prevention. A basic knowledge of how to stay safe in urban areas, knowing how to and when to contact the authorities, and understanding how to defuse a potentially dangerous situation are all valuable skills to learn. However simply understanding how to deal with a crime once it is taking place is only half of the battle. The most important skill when trying to improve home security in Austin, Texas is understanding how to recognize a dangerous situation. In many ways having a home security system is a tremendous help in this as a well placed system of locks, alarms, and cameras will alert a homeowner to any potential danger well before the situation is critical. Security cameras of course stand out from this list as they are the only form of security system that can effectively increase how much you can see at one time. Being able to sit safely inside of your house and monitor the outside of your home to stay on the lookout from any potential crime is incredibly important.
Staying Safe in Austin with Non-Violent Crime
While much less serious, Non-Violent crime is much more common. By the time they reach middle age almost every person will have experienced the discomfort of having a possession stolen or vandalized. Much more than the loss of property many people fell extremely violated by the prospect of theft. Having your home broken into is a terrifying experience and oftentimes it is only after a break-in or theft that people will begin to take home security seriously. With often simple measures such as ensuring garages are closed, doors and windows are locked, and deliveries take place while somebody is home simple theft is prevented. Another option that many people are beginning to take advantage of is doorbell cameras. A doorbell camera if installed correctly can provide a view of your entire front lawn and porch. With this one simple investment not only will crime be discouraged – but it will also be easier to achieve justice and recover anything that was lost as everything will be on camera. While the prospect of any sort of crime happening to you or family is worrying, with the proper preparations and knowledge living safe and secure in a large city is very doable!