Doorbell Camera For Apartments from Vivint
Can You Get a Doorbell Camera for Apartments?
Doorbell cameras are incredibly useful and can help prevent package thefts, burglaries and make it easier to avoid opening the door if you don't know who is at the door. Unfortunately, for those who live in apartments, doorbell cameras may not be a good option since it's typically not possible to drill into the wall by the door. However, more options are now available that can help apartment dwellers get the benefits of a doorbell camera without risking their deposit.
Why Buy a Doorbell Camera
Doorbell cameras make it easy to keep an eye on what's outside of the door, even when you aren't home. It's possible to keep an eye on packages until they can be brought inside, and many package thieves avoid homes that have a doorbell camera. On top of this, it's easy to see who might be at the door, so you don't have to answer the door if you don't know them and, since most doorbell cameras offer two-way voice, you can talk to them without being home.
Ask Landlord Before Purchasing
The main issue with a doorbell camera for apartments is they require being permanently attached to the wall. This means drilling two holes into the wall, using anchors, and screwing the doorbell to the wall. Most apartments do not allow holes to be drilled into the wall, inside or out, so apartment dwellers cannot use these kinds of doorbell cameras without permission. If the landlord does allow it, make sure this is in writing in case they change their mind and try to keep some or all of the deposit to fix the holes. If they say no, it's time to look into other options.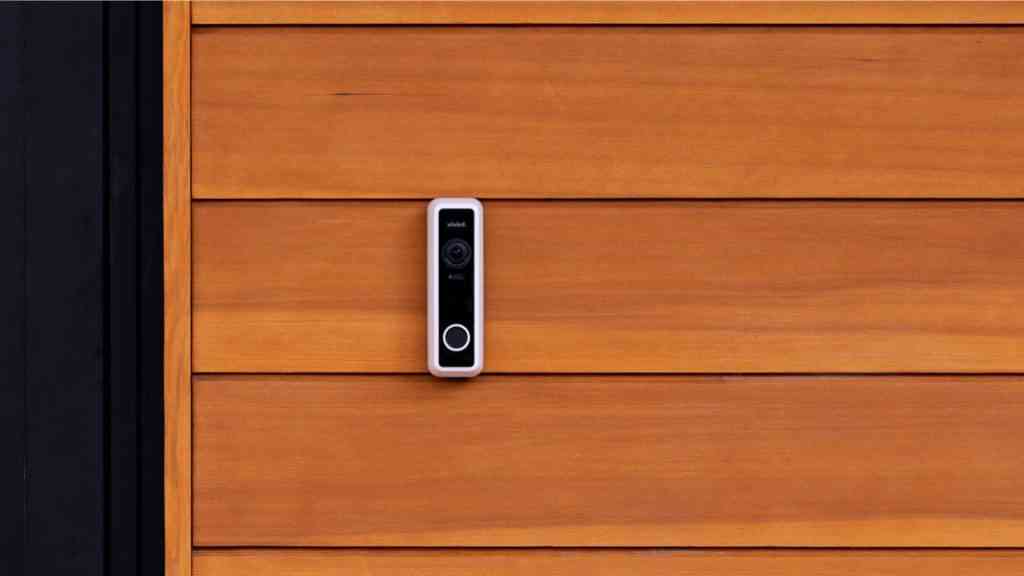 Doorbell Cameras Without Drilling Holes
There are now new cameras that work like doorbell cameras, but they're designed for those who live in an apartment. Instead of installing the camera outside of the apartment by screwing it into the wall, the camera mounts on the peephole from the inside of the door. It's easy to take it down when you move, and there's no worry about any damage that needs to be repaired. With these, landlord permission is not necessary, and you won't have to worry about the deposit when it's time to move.                            
Now let's understand the key points you need to keep in mind while buying a doorbell camera:
Video quality
A good quality video is the most vital feature of any doorbell camera. There are some factors on which a camera's video quality depends. Most doorbell cameras available today offer 1080p HD resolution, which presents a clear and high-quality image.
Some video doorbells only have 720p HD, so we suggest having 1080p HD or higher to get a nice video quality. Field of view is another important part that you should consider. Your doorbell camera should provide a field of view that captures nearly every inch of your property. We consider 120 degrees as a good one, so it is always advisable to have at least this field of view. The last important factor is the field of zoom. The best video doorbells offer "optical zoom," or the ability to get a closer view of the camera.
It helps in checking the video in a detailed manner.
Audio facility
A good video doorbell has speakers and microphones built-in so that there can be two-way communication between you and the outsider. With this facility, you can answer the person at the door irrespective of the location that you are sitting in.
Night Vision
Doorbell cameras with night vision give an added advantage to the homeowners. Infrared night vision provided by LED sensors can be an especially helpful feature in a doorbell camera.
Although it only captures activity in black and white, infrared night vision will still present a very clear view of your property. Some doorbell cameras have spotlights as well that allow for color night vision.
Durability
Since video doorbells are placed outdoors, it's essential that the device is able to function even at extremely hot or cold temperatures.
 For the durability of a doorbell camera, always check out its IP rating and temperature range. Make sure that its temperature range fits into the climate of the area that you are living in. 
Check Out the Options Today
Apartment dwellers should take the time to look into their options today. There are a few different options available, each with different features. Read about each one to make sure you purchase one that does have the features you need and that's going to work well for your home. With the right doorbell camera, it's possible to keep an eye on your home, even if you live in an apartment. Doorbell cameras are an excellent way to keep an eye on the home, but the models typically available are not a good option for apartment dwellers. Instead, learn more about the various doorbell cameras available for those who live in apartments to find one you can use without worrying about permanently installing it or risking your deposit.
Vivint
is one of the most trusted companies in doorbell cameras and its consistent performance over the last many years has made it the most preferred brand in this category.
Vivint
doorbell camera comprises of some great features like person detection, 180-degree field of view, and a clear infrared night vision. With professional installation and professionally-monitored home security,
Vivint
ensures you complete peace of mind by protecting your family and valuable assets.