Choosing a Home Security Installation Company
In today's world, locking the door before you leave is no longer enough to ensure the safety of your family, home and belongings. Burglars are getting smarter, and homeowners are becoming more forgetful. In fact, 34% of all burglaries don't involve breaking in at all – the intruder simply enters through an unlocked door or window. Without a professional security camera keeping watch over the house, there's always a chance that a burglar could slip in unnoticed.
Once you decide that you need professional help to set up your security system, it's important to do your research to find an experienced provider that is capable of handling the quality products your home deserves. With so many options on the market, it can be difficult to narrow it down to the most appropriate choice. Thankfully, our extensive background in the home security business has helped us identify the most important factors to consider when hiring a provider for installation.
Why Choose a Professional Installation Company?
Attempting do-it-yourself solutions for home security systems may be tempting, but all too often, installation mistakes lead to faults in the system. Home security is not an area where we want to take risks on the functioning of equipment. A professional security installation company can ensure that all of your devices are working properly to provide full protection for your home.
The best home security companies will work to make sure their system fits your home perfectly and will have both the tools and experience required to customize your solution as needed. They should also be very familiar with your neighborhood and area of town, so they can recommend the most suitable and dependable equipment for your unique needs. For any company you consider using, be sure to have a list of questions to ask them and read through a complete proposal of the system before making any decisions. You may want to ask about the training required for the installation crews they use, how many years they've been in business, and if they can provide any testimonials from past customers.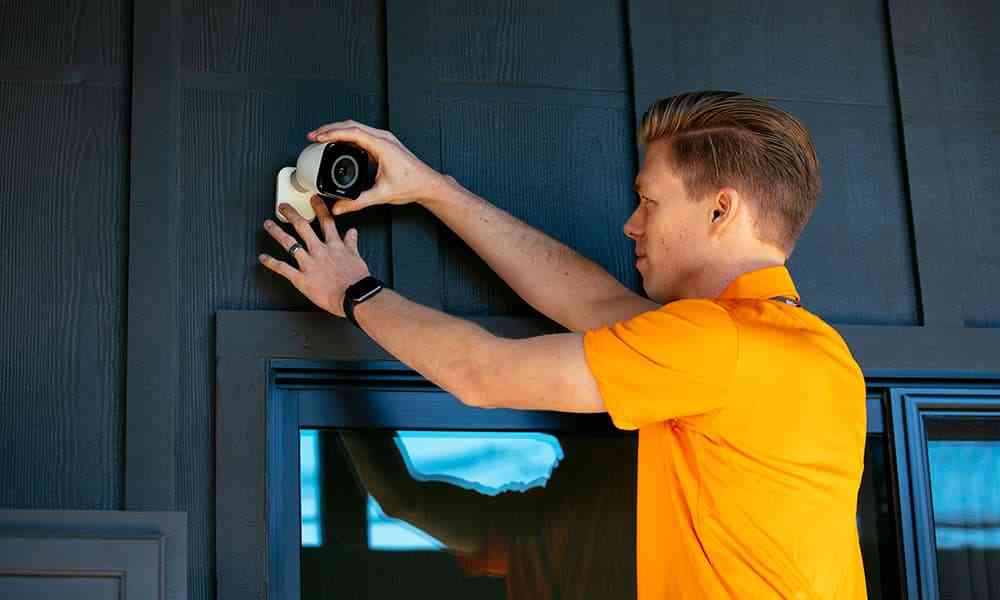 Important Points to Consider When Selecting a Security Company
As you start your search for a home security provider, start by asking the people you trust the most: your family and friends. If any of your loved ones have used a security company in the past, they can likely give you a strong recommendation based on their experience. They can also warn you about providers to avoid if they've had poor interactions in the past. If you don't have many friends or family who have purchased home security systems, you can also do research online to find the best companies in your areas. Sites like Angie's List and Trustpilot compile information on providers that will answer many of the questions you may have. These websites also typically provide many reviews from past customers to assure you that you're selecting a reliable provider.
Installation companies can do more than just put your cameras in place. An experienced service provider will evaluate your property and offer valuable insight that may reveal serious vulnerabilities that place the home at risk. Some areas of your property may not be very easy to keep an eye on, and others might be ignored because they aren't used frequently by family members. These spaces can provide the perfect spot to enter your home if they are left unmonitored. Your home security company can recommend installing motion sensors in areas of the home that aren't visited regularly, making it easier to detect intruders before they can find any of your valuable items. These sensor systems can be installed as part of a complete system to further secure your home.
Many homeowners these days are going the route of wireless security camera systems. Wireless equipment gives you more flexibility to place cameras anywhere across your property, without being limited to outlet locations. This kind of system also typically transmits its signal to a remote monitor, such as your smartphone, which allows you to check in on your property from any place at any time. If a wireless system interests you, make sure that the company you use offers these options and is familiar with the installation.
Premium security services usually come with a flat monthly fee, and although the fee can be quite affordable, many homeowners worry about paying this cost in addition to the price of the system's installation. Most service providers understand these concerns and will offer financing options, which help spread out the cost of the system over time rather than paying a large sum upfront. Other companies, such as Vivint, include the cost of installation when you purchase the system itself. With these options, installing a complete security system for your home can be done for a reasonable price.
After you've come to an agreement with a home security company, the actual installation process will be relatively simple. Experienced home security service companies will have compatible cabling for every area, allowing your equipment to be placed and used efficiently. These cables should include suitable voltage for all cameras, receivers and the alarm system that communicates with local authorities. Once the system is installed, you'll be able to use any portable device, including a smartphone or tablet, to access security footage and make sure everything on your property is secure. This kind of remote access makes it easy to check on the home from any location. With so much happening in the news each day, there are enough things to worry about without adding your family's safety to the list. Once you've found the right home security company and solution, you can remove any concerns you have about your home's protection with the click of a button.
Vivint's
home security system and installation professionals can provide these services and more. Unlike other companies,
Vivint
installation technicians are employees of the company, not independent contractors. Each technician goes through a rigorous education process and is trained specifically on the best ways to install
Vivint
products. With a
Vivint
system, you can feel at peace knowing the security of your home has been handled by highly experienced professionals.