Top 5 Doorbell Cameras Compared:
Vivint, Nest, Frontpoint, Arlo, and Ring
If you are looking for the best way to scare off thieves and closely watch any unwanted guests at your home, doorbells cameras could be the perfect solution for you. The most immediate benefit of a doorbell camera is the ability to receive instant alerts when someone is at your door, so you're never caught off guard. If you'd rather not speak to the person at your door, you can keep an eye on them or choose when to communicate with them through a mobile app on your phone. This has become an especially popular feature for those with mobility issues who may have trouble easily accessing the front door.
Doorbell cameras are one of the best tools you can have to defend your home against break-ins, burglaries or home invasions. Expecting a package or Amazon delivery? A reliable doorbell camera will notify you when your items arrive and can help you ward off pesky porch pirates.
Some of the most popular doorbell cameras on the market today have a wide range of unique features and they come in both hardwired and wireless configurations. No matter what your specific wants and needs are in a doorbell camera, there will be a perfect option available for you.
Vivint's doorbell camera is regarded by many home security professionals as the gold standard of doorbell cameras. Each Vivint doorbell camera comes with 1080p HDR resolution, infrared night vision, and an 180-degree field of view, which is the widest field available from any brand. One reason we love this impressive doorbell is the unique alarm system that triggers bright lights and sirens if an intruder or porch thief approaches your door.
This high-tech doorbell camera also offers two-way talk and can seamlessly integrate with other Vivint home security products, allowing you to see and control your entire system through one mobile app. If you are looking for a smart camera with the strongest protection and most extensive range of features, then 
Vivint
 will check all the boxes for you. Vivint's team of installation professionals will ensure your doorbell is set up properly to help you get the most from all of the doorbell's features. If you'd like a free quote for Vivint's Doorbell Camera Pro, call 855.848.4681 to get started.
With advanced technology and affordable products and services, Ring is one of the most popular companies when it comes to doorbell cameras. Ring doorbells are easy to install, durable, and weatherproof. They also provide many valuable features, including movement detection, night vision, and two-way speakers. Their superior video quality gives you a clear view of the outsiders. You can choose whether you want the camera to be battery-operated or you need a hard-wired installation. Ring is solid option for someone looking for a simple and easy-to-use doorbell camera to protect their home.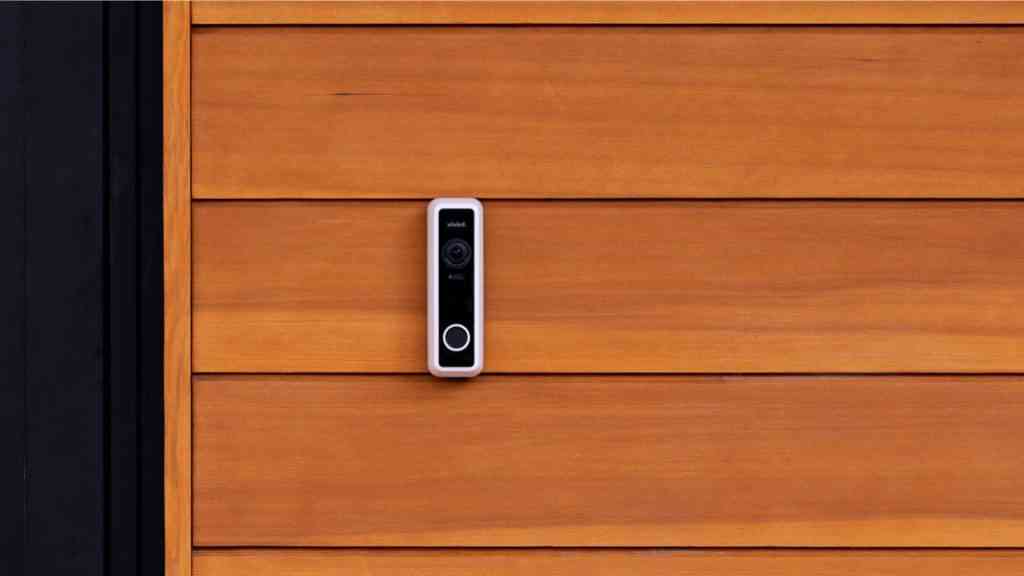 Arlo's doorbell camera is one of the more advanced products on the market. With features like a wide-angle diagonal viewing lens, 2K HDR video, noise cancellation, and enhanced night vision, this doorbell camera is worth considering. The wide lens of Arlo's camera allows you to see all visitors from head to toe, so you always get the full view of the person outside your home. The camera can also distinguish between person, package, car, and animal, helping you avoid any false alarms. It is compatible with Google Home and has a built-in siren. If you want a camera with great detection sense, Arlo's doorbell camera could suit your needs.
Frontpoint offers the slimline doorbell camera with some great features that are worthy of your consideration. This camera can sense motion up to eight feet from your door, regardless of whether or not the person rings the doorbell. However, to use this doorbell, you must sign up for Frontpoint's ultimate plan. This service will give you a wide range of features in your doorbell camera, including 24/7 monitoring. If you are looking for a variety of security features in a doorbell camera and don't mind committing to a long-term agreement, then this camera may be a good option.
The Nest doorbell camera comes with many of the features homeowners want. It offers 24-hour streaming, night vision, facial recognition, and recording of up to 30 days of continuous video. It is compatible with Google Mini, which means your smart speaker can let you know when someone is at the front door. However, the Nest doorbell camera does require a hard-wired connection, so it may not be best for those who want a battery-operated doorbell. The doorbell is relatively easy to install, and it can actually be programmed to recognize family and friends. With some convenient and customer-friendly features at an affordable price, the Nest doorbell camera is another great option.
 Each of these doorbell cameras come with mobile apps that will let you access your front door from any corner of the world. When you are away from your home, having a doorbell camera with monitoring is important. Options like Vivint's Doorbell Camera Pro offer 24/7 monitoring, allowing local police or fire to respond to any issue on your behalf.
 That's it! We believe these are the best video doorbell cameras available on the market. These devices are becoming an essential tool to safeguard your home and protect your family. For more information on the Vivint Doorbell Camera Pro, visit
https://vivint.security/doorbell-camera/
or fill out the form below.