What is Samsung Home Security?
Mostly known for phone service,the Samsung Company was founded in 1969 and has spent 50 years striving to create and use its technology for the betterment of people as a whole.  If you study the mission and goals of Samsung, you will find that Samsung feels a responsibility to people first.  All technological innovations are made to help people succeed and accomplish what they could not do before. The spirit of this business is based on ethical practices within the company itself and for its users.  Samsung holds itself and its employees to a strict code of ethics. Overall, this company commits itself to innovative, creative, ethical, responsible growth in the pursuit of making the lives of all people easier and better. So while we can feel confident in the mission of this company, we must still determine if the security/monitoring options work well with what homeowners already have in place.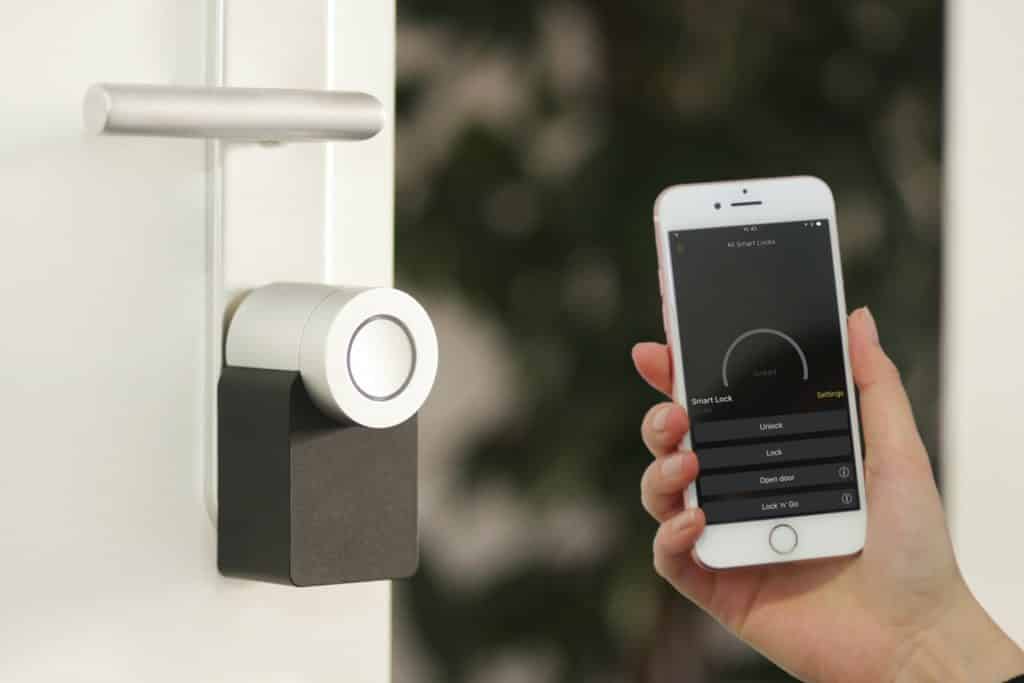 Samsung has several smart products that can be synced and monitored/controlled from the SmartThings Samsung app. Customers can pair any Samsung smart device to the app and control/ automate the device from the SmartThings app. For home monitoring, customers can purchase the Samsung SmartThings Home Monitoring Kit. This kit includes a hub, camera, and motion sensors. The customer can purchase additional cameras and motion sensors. The SmartThings app is used to watch the camera views and get notifications of motion. The customer can then use the app to record the activity for up to two minutes. Customers can display camera footage on Samsung smart televisions as well as the app. In addition to real-time monitoring of cameras in and around the home, other devices can be used for monitoring. Customers can purchase doorbell cameras (which can be viewed from the app or from a Samsung tv) and door entry keypads. These keypads can be locked and unlocked from the app, which helps with peace of mind that the doors are secure. Customers can even use their Samsung refrigerators to unlock and answer their doors, which adds another layer of ease of use for customers. To further customize and monitor the home, water leak sensors can be purchased as well. Other smart devices that are not of the Samsung brand can be paired with the SmartThings app, such as Halo smoke detectors.
In addition to home monitoring, customers can also use the SmartThings app to automate and control devices from a Samsung phone.  Clients can purchase and install smart outlets and control the devices plugged in to those outlets.  Customers can also purchase thermostats and lighting that can be paired and set for automation and use with SmartThings.  While not directly related to home security, these options can also enhance the feeling of safety within and around the home.  Customers can have doors ready to be unlocked from the car in bad weather, open the door for someone without a key or passcode, and have lights and a thermostat ready to keep the home welcoming and people-ready at needed times.  
Samsung also offers monitoring and automation with devices that benefit the customer timewise.  Smart Samsung washing machines can be programmed with the app, letting the user set preferences and wash schedules, including notifications about wash cycles that are complete.  Similarly, customers can conveniently view the contents of their Samsung smart refrigerators to make sure they know what to pick up at the grocery store, most likely saving many future trips to the store. These non-security smart options align with Samsung's mission of making it easier for people to operate in the world.
The positive reviews highlight several reasons why this is a good system for some.
The set up of the products is easy, and once the hub is plugged in, other Samsung devices will find it and pair.
Customers love that Alexa and Ring devices (among others) can be paired with SmartThings.
Many devices can be paired and used from the SmartThings app, and customers can digitize and automate many routines in the home.
The price has been lauded as well, although the prices of products are difficult to find online.
Overall, this system is a good option for those who want to DIY their security and home automation. This is fully customizable, and it can work with existing products.
Negative reviews of Samsung home security products point out several issues.
First of all, customers have had issues with connectivity and range of the products. In large spaces, the range of the products does not allow for all parts of the home to be covered. The customer must then add products or try to troubleshoot to get the existing products to connect to the hub.
Additionally,  some products in the system seem to malfunction and give false alerts even when there is no motion or opening/closing of doors.  When this happens, it is difficult to disable, as there is not a countermotion to correct and turn off the sensor.  This requires the system to be reset and the devices to be re-synced with the hub.  When this happens over and over, it is a hassle, especially since devices that might be mounted on walls must be brought to the hub in order to re-sync.
Battery life is another problem. Devices have a pattern of indicating low or dead battery, but when the device is reset, the battery life indicator is different.  So, this is just unreliable, and customers cannot know if their devices have enough power to keep a monitor of their homes.
Lack of support is widely reported in reviews. Many customers have stated that if there is an issue, it is difficult to get any straight answer.  At times, devices simply stop working because they are outdated and no longer supported, and there is no notice of this that would allow customers to have a plan or product in place to maintain security. 
Overall, the negative reviews of Samsung Home Security products and the SmartThings app show a pattern of unreliable products, little available support, and glitches that cause the customer to work hard to try to get the system to behave correctly.  So, one has to determine if putting work into a security system is the ideal solution. Or, should the security system be doing the work for you?
The catch is that this system focuses mainly on Samsung products.  While some other smart devices can be paired with and controlled by the SmartThings app (like Google Home, Nest, and Alexa), many options that make this system unique, like setting laundry preferences and receiving laundry updates, are from Samsung itself.  Choosing this security/monitoring system is an understandable next step if the consumer already has Samsung products and wishes to use them at their full potential. However, it offers limited security due to self-monitoring, so the customer must be aware of that when deciding which home security system is the best fit. 
Additionally, the Samsung security system is for the homeowner to self-monitor.  There is no option for off site, 24/7 monitoring by a security company.   This, along with the spotlight on products that are used to make life easier, make this system of Smart products more geared towards those who want gadgets to automate their homes and make life easier, rather than those who have a security focus.
On the Samsung website, it is difficult to find each product individually to see what all is available.  Some home monitoring packages are posted, but details are hard to find. It would be tricky to purchase and order everything available or to get the most for your budget simply because there is no simple layout of all available Smart products that can be used for monitoring or pricing for all options.  Reading the reviews helps, as customers talk about their devices.  However, when I am researching security systems, I want to be able to compare product options, prices, and availability.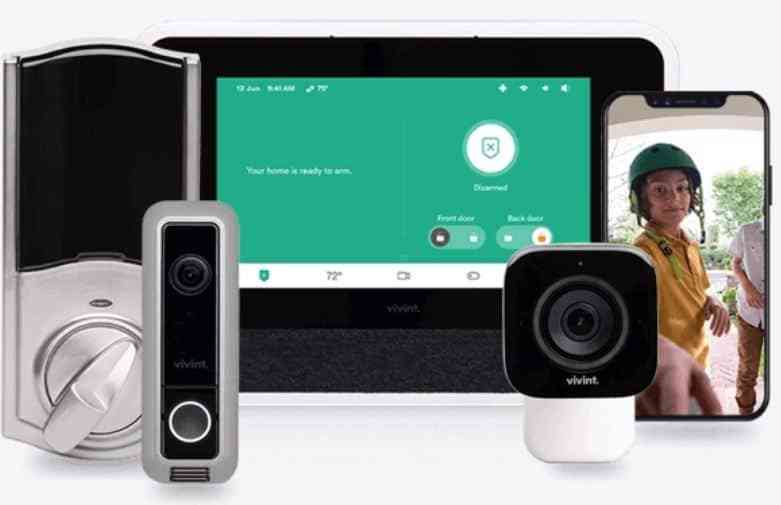 First of all, Vivint stands out due to its 24/7 professional monitoring system.  Customers can rely on monitoring centers here in the United States to monitor their homes and alert emergency personnel at any time.  For those who want a home security system that goes beyond self-monitoring, this is the best bet. Customers can know that their homes, belongings, and family are kept safe at all times. 
Next, Vivint has professional installation by trained Vivint employees.   There will never be a question that the devices are set up and installed properly.  Installers will determine best placement of devices, complete installation, and set up all devices so that they are working properly by the time the installer leaves.  Customers will also be taught how to manage all devices and the app as well. If there is ever an issue with a device, or if the homeowner has a question, customer service can be reached easily through the hub.  Customer service can access your panel and provide troubleshooting until the problem is corrected. Again, these services allow for peace of mind, which is the intended outcome for home security.
Vivint offers a wide variety of products for homeowners, and customers can customize their home security packages and add products to meet their security needs. First of all, Vivint offers security sensors.  These sensors alert to movement of windows and doors, monitoring the opening and closing of doors and windows while the alarm is set.  If these sensors sense an opening, the hub and the app will be alerted, and professionals will be standing by to respond if needed. A motion sensor is also available, and this alerts the homeowner to any motion, prompting the person to view the cameras to determine if intervention is needed. 
To provide that next level of monitoring, cameras are part of Vivint's home security.  There are several types of cameras that combine to provide full monitoring of the inside and outside of the home.  Indoor cameras are created to sense motion, and this is when recording begins.  The customer can access the camera at any time on the app and check on what is happening in the home.  Another fun feature of this indoor camera is the ability to chat through the camera.  So, when you are away from home, you can chat with those inside the home.  This is especially helpful if the person does not have a phone or is not near the phone at the time, or if you want to talk to a pet.
In addition, Vivint also offers outdoor cameras. The Outdoor Camera Pro uses Smart Deter technology to first determine if anything is lingering outside of the home.  If lingering is detected, an alarm sounds, and the led ring around the camera is activated, showing the lurker in full detail, hopefully scaring him/her away.  While you may be
worried about being alerted to movement at all times, this Smart Deter technology is able to discern between people, cars, and pets.  This ensures that you will only be alerted when there is a threat.  The customer can rely on the video quality as well, as the Outdoor Camera Pro uses a 4k HD sensor. 
Lastly, Vivint offers the Doorbell Camera Pro.  This camera offers the biggest monitoring range of any doorbell camera, and the customer can customize the direct area that will be monitored.  Theis camera allows the customer to see not only people, but packages as well.  If a person tries to take a package, the alarm sounds, and the light activates, showing the burglar that he has been caught.  This recording and hopeful prevention of theft can help keep the home and belongings safe.
In addition to these security devices, Vivint also offers fire, flood, and carbon monoxide detectors.  The Vivint smoke detector is battery-powered and uses the hub to alert the fire department at the detection of a fire emergency.  Customers can rely on this battery for five full years. Additionally, the hub can cut off the air when smoke is detected so that the fire is hopefully unable to spread as quickly.  Vivint also offers a Water Sensor that will detect leaks quickly and alert the homeowner.  These sensors are placed in areas that should not have any water, so detection happens quickly.  An additional feature of the Water Sensor is that it will let the customer know when the temperature drops to dangerous levels, so steps can be taken to prevent pipes from freezing. Carbon monoxide is another hazard that is covered with Vivint. With this detector, alerts are sent to the customer and to the monitoring team whenever this gas is detected.  This allows for time to ventilate safely or for emergency personnel to intervene quickly.
If the homeowner is looking for automation services, Vivint provides these as well.  Customers can choose to include smart products such as thermostats, lights, garage door openers, and door entry keypads in addition to security devices.  Other smart devices such as Google Home and Amazon Echo will pair with the Vivint app to create a secure, technology-driven, automated home.
Choosing a home security system is very personal and should be based on your individual needs. You should take into consideration several factors when making this decision
Do you want to self-monitor or have professional monitoring 24/7?
What are your goals?
Do you want video surveillance to be recorded or just available in real time?
Do you want the option to have emergency personnel alerted in case of fire, health emergency, or intrusion, or do you want to do this yourself after viewing cameras?
Are you tech-savvy and able to install products easily? Do you need professional installation?
Can you troubleshoot problems yourself or through email/phone , or do you prefer to have customer service available through a panel in the home?
Once you have determined your needs, you can look into the reliability of the products and customer service to feel confident in your decision for home security.