Who makes Gemini Security Products?
Gemini Alarm Systems is a brand of products created by NAPCO Security Technologies. NAPCO has a large variety of security systems for businesses and private customers to choose from. With its home base in New York, this company created Gemini Alarm Systems to be installed in commercial buildings and private homes.
Gemini Security Panels
These security panels differ based on how many zones the customer wants to monitor.  Keep in mind that these panels can service large areas for commercial clients as well as single-home customers.   Gemini intrusion alarm systems offer packages with zones from 8 zones all the way up to 255 zones.  Customers can also purchase expanders that allow them to add zones to their monitoring package.  All GEMINI products will work with these GEMINI security panels. 


Gemini Wireless Smoke Detector- GEN-SMK
This wireless smoke alarm system sounds an alarm as soon as there is smoke near the detector.  When this alarm sounds, the smoke detector also sends a notice to the control panel


Gemini Wireless Carbon Monoxide Detector
This carbon monoxide detector sounds an alarm and sends a notification to the receiver whenever high levels of carbon monoxide are present.  However, this detector is only available for commercial units.


Window/Door Transmitter
Gemini offers 4 different types of window and door transmitters that alert the customer when the door is opened while alarmed.  They can also sound a chime when one of these is opened when the alarm is not set, so that customers can hear the opening even if they are not in the room. 


GEM-KeyF Key Fob
This keyfob is able to complete four different functions.  First, it has on/off buttons for the security system itself.  The other buttons can be used for products of the customer's choice.  Options for these buttons include panic buttons and medical alert buttons. There is a second option for a keyfob that has a longer distance range than the GEM-Key F.  This one is called the GEM-KeyFLR.  This has all of the same options but can function at a greater distance from the receiver. 


Panic Button
The GEM-WP PANIC is a waterproof panic button that customers can wear as a necklace or bracelet.  When the customer pushes the button, monitors are contacted and medical or police personnel are contacted to send help immediately. 
Motion (PIR) detectors
The Gemini line of security products offers three motions detectors for customers to choose from.
GEM-PIR
This motion detector is able to monitor an area up to 2,500 square feet(if there are no obstructions).  This camera comes with eleven lenses, so the customer can choose which is best for the job and area at hand.  
GEM-DT
This motion detector covers an area of up to 1,600 square feet.  Although this is a smaller area of surveillance, there are other benefits of this motion detector.  Customers can self-test the monitors to make sure they are working properly to avoid false alerts and to make sure they are catching what needs to be noticed.  This detector also has more advanced technology so that there are fewer false alarms.  This technology even works to weed out alerts from pet movement. 
GEM-PIR PET
This detector is similar to the GEM-PIR, as it monitors an area that is 50 ft. by 50 ft.   However, this sensor is able to detect animals that weigh up to forty pounds, keeping these pets and their movements from giving the customer false alerts. 
GEM-GB Acoustic Glass Break
The GEMINI glass break detector sounds an alarm whenever it detects broken glass.  This focuses on the glass in windows and doors, but glass breaking in the kitchen sink will also trip the alarm when it is set.  This is an important addition to cameras and door and window sensors, as some intruders will not try to just open an entry point the normal way.  When the alarm sounds, a notification will also be sent to the panel for monitors to notice and send authorities.  


GEM-Heat Detector
This detector is used separately from the GEM-SMK, and it detects high or rising temperatures.  This is purely a wireless device, and it only works with GEMINI security panels.  It is nice to have another layer of protection for fires and early notifications that the air conditioning system might not be working properly. 
While this brand of products from the NAPCO Security Company will help keep your home secure, it is difficult to get full descriptions of the products from the NAPCO website.  This is a very confusing website, and it takes a bit of digging to see what is available, since there are so many different products and brands.  While it is good to know that the company is diverse and able to support that many products and product lines, it would be easier to purchase from a company that you know you can research. I personally want to see a detailed description of all products available so that I can make the best decisions based on the needs in my home.  A company with a clear, detailed, easy to navigate website will help me achieve this goal.  Vivint Security Systems is one of those companies.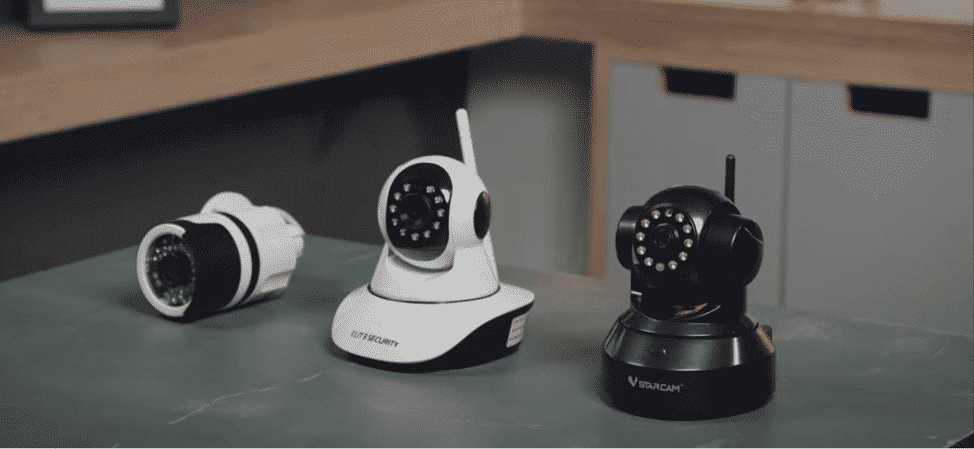 The Vivint website is very user-friendly, and it is possible to not only see charts comparing security system packages, but also view products in the categories of Home Security, Cameras, and Smart Home Devices. Potential customers can navigate the website to see full-color, zoomed images of products with full descriptions, testimonials, and videos so that they can make the best choices for purchasing security products for their homes.
Vivint security packages are the base of every security system from Vivint.  Customers choose one of the three available options and can then add products for additional security and automation. All packages include what Vivint is known for – 24/7 professional monitoring and installation- along with intrusion detection, the mobile Vivint app, and a security panel that has a touchscreen.  The Premium Package has all of this as well as video security and theft deterrence.  Video cameras in this package record when motion is detected,and the customer can look at the real-time video using the app.  For theft deterrence, cameras that detect a person taking a package from your home will sound an alarm to encourage the thief to drop the would-be stolen items and leave the premises.  His or her face will still be captured on camera, even in the event that he/she does leave. The Premium Plus package includes all of the features mentioned and also has options for voice control, storage of recorded video for up to thirty days, and home automation. In addition to Vivint products, you can pair your Google Home, Amazon Echo, and Google Nest devices to the hub or app, using them to control Vivint devices in your home. Whatever starter package the customer chooses, he or she can always add new products as they find the need for them.
Outdoor Camera
Outdoor cameras have the ability to determine if someone or something is entering or lingering on your property.  This smart camera is programmed to know the difference between cars, pets, and people, so you will only get notifications and alarms that are serious. When the camera notices someone suspicious, it will turn on its bright LED light and sound a loud alarm to scare the intruder into leaving.  The camera will also begin to record this encounter for you and send you and the professional monitors a notification.


Indoor Camera
Indoor cameras can serve two purposes.  You can use these to get notifications of movement within the home and then respond to the notifications by looking on your app to see what is moving in the home.  Customers can use two-way talk to communicate with the person in the home, even if he or she is watching this camera footage away from home.  Customers can also make these cameras work more for you by having them at your doors facing into your home.  If an alarm sounds due to a door being opened when it is alarmed, the camera will start to record activity.  This serves as a second layer of monitoring so that you will know why the alarm has sounded. 


Doorbell Camera
The Vivint Smart Doorbell Camera is a powerful camera that allows the customer to customize the monitoring zone.  The camera notices when people and packages come to the door, and it can recognize when someone is trying to take a package.  This camera has two-way talk capabilities, and it will light up and sound an alarm if an unauthorized person is near your property.


Smart Drive
If you have the Premium Plus package, you can use the Smart Drive product to keep recordings from your cameras for thirty days. This is helpful when you need to go back and look something up that has taken a few days for you to notice, or for you to show police footage as needed.  Whatever the powerful cameras have captured will be there for you on your app, right on your phone.
Additional Security and Safety Features
Vivint Smoke Detector
This smoke detector sends a notification to you and sounds an alarm whenever smoke is detected.  Of course, the monitoring center is also on standby if the customer does not disarm the alarm, and emergency personnel will be on the way.  When smoke is detected, the air conditioning is also shut off so that if there is a fire, it will not be fed by that air.


CO Detector
This detector sounds an alarm whenever carbon monoxide gas is detected in the home and sends the customer an alert in case he or she is outside the home at that time.  At the detection, monitors are also connected to the home, and they can also send medical help if it is needed. 


Vivint Water Sensor
The water sensor is placed in an area where leaks are prone to happen, such as near the water heater or washing machine, or under a sink.  Whenever water is detected, an alert is sent to the customer via the app.  The water sensor is also able to monitor temperature, so when the temperature dips down to freezing levels, there is an alert so that customers can drip the water to avoid frozen pipes.


Vivint Emergency Pendant
This medical alert pendant can be worn as a necklace or as a bracelet.  As long as the customer is within the range of the hub, when the pendant is pressed, professional monitors are alerted and can talk to the wearer to determine what services are needed.  Monitors can contact and send emergency personnel to the address as soon as they are needed. 


Vivint Glass Break Detection
When the system is alarmed and detects glass breaking, an alarm will sound, and professional monitors will contact the customer through the panel to determine if this is accidental or an emergency.  If no one answers the emergency call, emergency personnel will be sent to the home. 


Door and Window Sensors
These sensors are placed on windows and doors and detect when the window or door is opened.  If the system is not alarmed, a chime will sound to let the customer know the action is taking place.  If a door or window is opened while the system is alarmed, the alarm will sound, and professional monitors will contact the customer through the panel.  If no one answers, or io
Smart Garage Door Controller
The garage controller lets you open and close the garage door from anywhere, making sure that your home is secure even if you forget to close it when you leave. You can check the status of your door from anywhere.


Vivint Smart Lock
Smart locks have several helpful features.  First, customers can lock and unlock their doors using that app, allowing people into the house even if they are not at home.  This also ensures that the door is locked at all times, since customers can check the status of their locks from the app as well.  Customers can also create up to thirty entry codes to keep track of who is entering the home and when.  Lastly, the Smart Lock System can be programmed with Smart Lighting so that when the door is locked, the lights are automatically turned on.


Smart Lighting
Vivint customers can use Phillips Hue light bulbs and Vivint Smart Plugs to control lighting in their homes from their app.  This is applicable to outdoor lights and inside lights, and can work with lighting without smart light bulbs, as long as they are plugged into a smart plug.
Which security system is the best fit for my needs?
Before you choose a security company, you need to do some research.  You need to be able to view all of the products and their full descriptions and specifications online, as well as the products that pair with these systems.  If it is difficult to find these, you cannot make an informed decision. Vivint has an extremely informative website, and you know what you are getting with this system.  There are always representatives available to help answer questions, via phone or online.  There are so many options for products beyond the security system packages, so you can customize your system to fit your needs and wants perfectly.