Preventing a break-in from occurring at your residence naturally starts at the first noticeable point of entry for a home: the front door. For people living in highly populous and congested regions, security against strangers arriving unannounced and even mail being stolen are amongst a few reasons why enhanced door security is warranted.
How do you improve your front door security?
Improving your home security should begin with upgrading your locks; whether you rent your home or own your home, having a heavy-duty dead bolt is the first step towards securing your front door. If your home is equipped with a single door barrier, it is a great idea to have a security screen door installed to accompany your main front door. A security screen door has an additional set of locks to add a second layer of protection against door related break-ins. However, for the best chance at securing and monitoring your home, experts say a home security system involving front door surveillance is the best deterrent for home intruders and "package pirates."
There are many different do-it-yourself home security camera options available online that are available for consumers today, yet a professional brand like Vivint is consistent in pricing with benefits that pay off long-term, like a Smart Hub to enable your home to connect to your smart phone and other amenities. Plus, financing is available for the initial investment of security equipment. Vivint offers different levels of security depending on your needs, but one of the most important for every home owner is the presence of a front door camera.
Door security for parents
One of the many benefits of having a front door security system is the ability to lock your doors from your phone. With Vivint, there are a million benefits for parents wanting to add an extra level of protection and security to their home for their children. "Middle-of-the night wandering" is a common occurrence for children with autism and can involve the child attempting to leave the bedroom go outside at all hours of the night. The idea of a child leaving the residence unattended, autistic or not, can be a major safety concern. Additionally, teenagers attempting to sneak out at night can be monitored and prevented with Vivint's front door security systems. You will get a notification delivered straight to your phone when the door is opened, as well as audio and video surveillance of the action. You can quickly lock your doors from the comfort of your bed and ensure the house is secured from both intruders and little escapees.
 Another benefit of the Vivint security systems is Smart Lock, which enables you to have a passcode to enter the residence. The Smart Locks also allow you to have up to 30 unique codes for your household so each family member or person with access has a digital "footprint" when they enter and exit the residence. This feature proves to be especially helpful for family members that either do not have a key or have forgotten their key. Another benefit to having a passcode system is the ease of changing the code anytime security may be compromised or maintain security in general; for example, when having people come to the residence when you are not home for irregular reasons, such as pet-sitting while on vacation, a temporary code may be given and changed easily.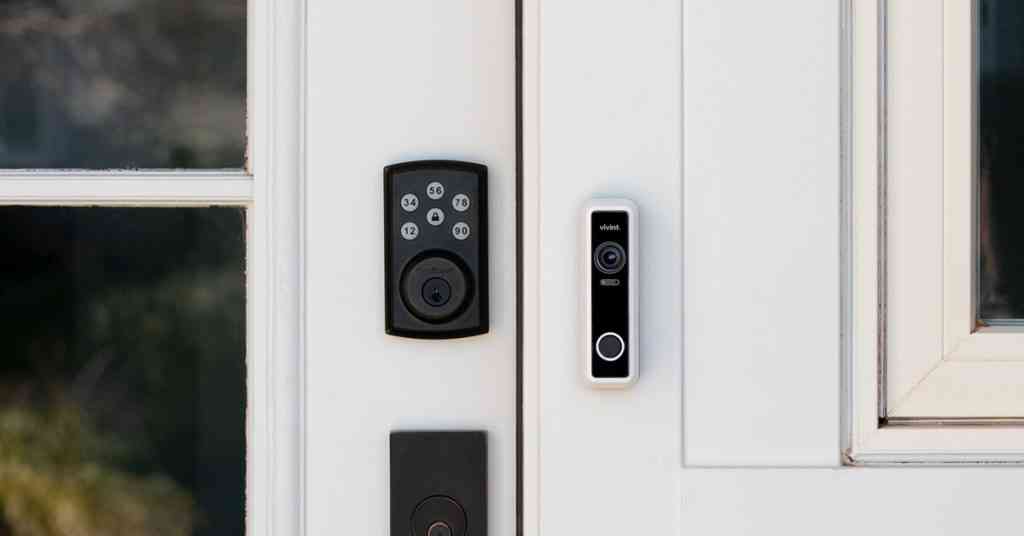 More benefits of Kwikset Smart Locks with Vivint
Vivint also allows customers to access a variety of amenities from their front door security. For example, customers with Kwikset Smart Locks on their front doors are able to not only arm their security systems from the touch of a button, but they can also turn their lights off and on, and adjust the temperature and settings of their thermostat. This is made possible by Vivint's connection to your home Wi-fi network.
Front door security while on vacation
Having surveillance while you are on vacation enables you to enjoy the time off with a clear peace of mind, and it feels good knowing your belongings are safe while you are miles away. Having someone come by to feed the animals or provide outdoor maintenance can be monitored easily from your phone without the need to check in or make extra forms of direct communication. If there are any attempts at break-ins, you will be notified immediately with Vivint's security systems. Should suspicious activity arise, Vivint's security systems will instantly record, and a team will be on standby to secure your residence immediately with local law enforcement. The video and audio recording plus instant notification is what makes a home security system much more reliable for home security in comparison to motion-detector automated lights which now are less of a deterrent for intruders. 
With the Kwikset Smart Lock system, you can also give the illusion of being at your residence without actually being there; for example, you can turn your lights on and off virtually through the app on your phone, thus, giving the impression of activity at the residence without you physically being there. This feature is great for strangers who may have been watching the house to see if there is any activity, as a home with all lights turned off and no car in the driveway appears vulnerable for a break-in unless cameras are visible. The front door cameras allow you to see who approaches the residence, and you may turn the lights on virtually and answer any questions if there are service deliveries. 
Going on vacation for an extended period of time use to require house-sitters for many families who are worried about their valuables being stolen; with Vivint's home security system and front door allow you to be in two places at once and keep an eye on all that is precious to you.
Front door security and your mail
According to recent research, over 50 percent of Americans experienced theft in the year 2020. Adding to these statistics is a striking fact that 1 in 3 of Amazon Prime's customers have reported at least 1 package being stolen. Someone lurking may see packages stacked up on door steps and intercept them while you are away from your residence, causing a headache for you with filing claims and reordering your deliveries. With Vivint's Doorbell Pro, you can keep a close watch on any deliveries made to your residence; every time a delivery occurs, or a person is detected at your residence, the Smart Clip feature included will create an audio and video recording for the entire length of the action. This feature is beneficial for unexpected visitor, unexpected deliveries, to monitor the security of the mail that is delivered.
One of the benefits of Vivint's Doorbell Camera over other competitors is the size of the field of view you will receive. With a field of view of 180 x 180 degrees, Vivint's Doorbell Cameras are easily considered the tallest and widest of any camera on the market. Another benefit is the wired connection the camera system has, in comparison to other companies that offer battery powered systems instead. You will never have to worry about losing connection and security breaches due to lack of connectivity in this way. The quality of the camera is the best on the market as well – a 1080p with High Definition resolution allows you to see who is at your home day or night, with the utmost visual acuity.
The Outdoor Camera Pro provided by Vivint is an amazing deterrent tool for thieves; the Smart Deter technology detects when someone is outside the residence or in the vicinity for too long and begins a chain of reactions. For example, one of the features is an automated loud sound that comes from the device which instantly shocks the intruder. Another feature to the Outdoor Camera Pro is an illuminating LED ring on the device itself, thus showing the intruder they have been spotted and are on live surveillance. By this point, you have been alerted to your phone of someone nearby your residence and can interact and take action immediately. 
The Outdoor Camera Pro has a unique 4K HD sensor with an enhanced 140 degree perspective from the vantage point, allowing you to cover more of your property than ever before. The striking detail of the cameras allows for digital acuity of the highest caliber. Night vision sensors and zoom technology allow you to see what is going on, day or night, with all the benefits of high definition. The camera is resistant from even the worst weather conditions and installed with a hybrid wired Wi-Fi connection to avoid issues commonly associated with wireless delays, feedback issues, and annoying buffering. 
The echo canceling of the microphone attached to the Outdoor Camera Pro system allows for clear feedback and voice interactions. The ability to take still photographs and have saved clips will allow you to review footage of any intruders or disturbances which may occur when you are not at home.
The technology of the system proves to by lightyears ahead of other security systems; for example, the Outdoor Camera Pro can differentiate people from pets and cars, allowing you to be notified when it is important. If an emergency does arise, the Vivint security team of professionals is on standby at all hours of the day to help you and secure your home.
Front door security and your car
Front door security with Vivint's Pro system is a major benefit for many Americans who park their vehicles within close range of an entryway door into the residence. Car theft is reported to occur every 40 seconds in the United States; however, with Vivint's alerting notifications, you will know if someone is near your vehicle. This feature is beneficial whether you are at home or not and can be utilized through the Smart Hub feature and your smart phone. Even if it is just the neighborhood cat walking on your car in the middle of the night, the surety of a safe presence both inside and outside your home makes the system even more worth it. 
The Car Guard provided by Vivint can be paired with the Outdoor Camera Pro system. The Car Guard system alerts the camera if someone is approaching your vehicle, which then causes light and sound reaction from the camera. This instantly alerts the person lingering on your property by your vehicle and deters them from staying a minute longer. 
During inclement weather, tree limbs and hail can cause egregious amounts of damage to vehicle bodies and glass. Reporting this incidence to insurance agencies is tedious and time consuming. However, the process of filing a claim for damages incurred to your property can become that much easier with a surveillance video of the damaging incidence as provided by Vivint's outdoor recording cameras.
The number of cameras you may need at your residence can depend on a variety of factors. The size of your home and property and the reason for the cameras is something Vivint considers when advising you on what level of security you need. Additionally, the bandwidth limit to your personal network can impact the security system's efficacy.

One of the many benefits of having a professional company like Vivint protect and secure your home is the ease of installation; once you choose Vivint, you never have to worry about tinkering around with equipment that you are unfamiliar with. For example, a team will be sent to your home from Vivint to install your equipment and answer any questions you may have about using your front door security. Vivint's attention to detail for rapid and quality customer service is what makes the company an elite choice over competitors. Many customers do not have time in their day to set up foreign equipment to their home, especially unfamiliar items like security cameras, or door and window sensors. Vivint's team is always on standby 24 hours a day for general questions or to fix any type of interruption in service. You never have to require tools or expertise in security systems – just pick up the phone and Vivint is there.